AccuTAG Tray Tag Printer
If you're looking for a faster, stronger, more economical Tray tag printer, and one that integrates with AccuZIP6 postal software, try the AccuTAG tray tag printer for AccuZIP6.
Use the AccuTAG thermal desktop printer with the existing tag template made specifically for this printer to generate high quality container tags complete with the intelligent mail barcode.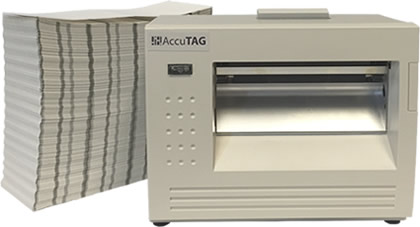 KEY FEATURES INCLUDE:
Print throughput: 180 tray tags/min.
Integrates with AccuZIP6®
Built-In Tray Tag Templates for seamless integration and printing
Fan-folded media
Durable, metal design
Compact foot print
Dimensions (H x W x D): 6.9" x 8.5" x 4.8"
Lightweight at only 8 lbs.
Lift up print head for easy maintenance
Print professional-grade tags for all classes of mail supported by AccuZIP6 including First Class™, Periodicals and Standard Mail® jobs.
Self-centering media guides with auto load
USB/Serial interface (Ethernet available)
ACCUTAG QUICK PRINTER SETUP VIDEO
In addition to container tags, the AccuTAG can be used as a general purpose desktop printer for printing prescription labeling, compliance labeling, shipping and receiving, inventory management, asset management, information labeling and more.
To order by phone, call (800) 233-0555